Block Around
The ball can fall from any side of the screen. Rotate your pad to aim and make long chain combos for higher score.
Break all the key blocks to open the warp gate and make your path to the next level. Each level includes a new feature, type or block. Taking risks to increase your score can grant you extra-lives but the ball gets faster and faster.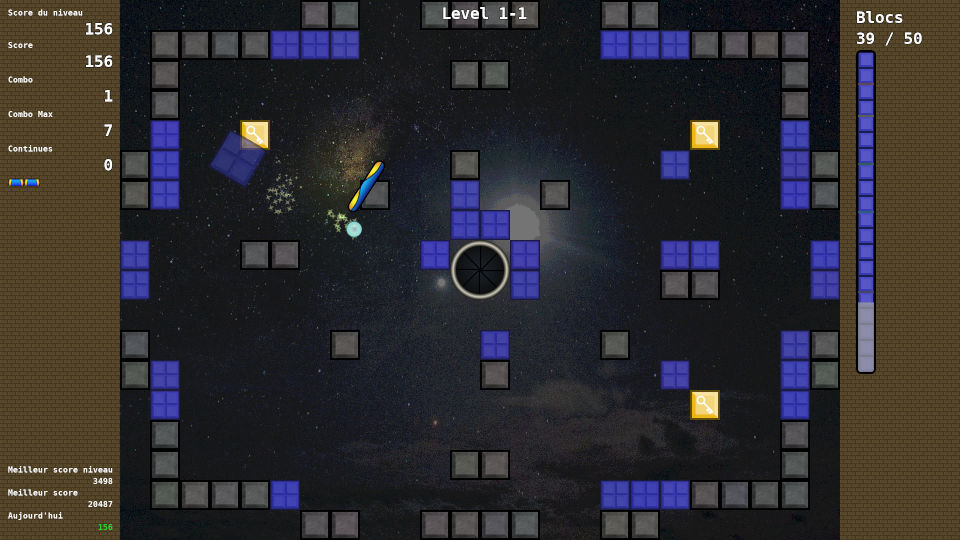 Featuring the amazing bands RUN! RUN! JUMP! PUNCH! and Grizzly Cogs. Please check their bandcamp for more musics and to support them.
Featuring
12 levels
Play all levels in arcade mode or a single level in score attack
User profile for progression and hi-scores
Shared arcade hi-score table between profiles
Available in English, French and partly Japanese
Advanced tips:
Gain an extra life at 3000 points, 7000, 12000 and so on;
Each combo increase the score you gain from a block by 10% (up to +100%);
Key blocks earns you more points than regular blocks. Try to increase your combo chain before breaking a key block;
When the ball hits the paddle from the back, it bounces like in old block-breakers but your combo chain is kept;
A bonus is given at the end of each level. Clearing a lot of blocks grant an extra bonus.
Roadmap
This game is still under development but actually contains the complete gameplay. Some feature are missing:
Score and level adjustments
Exclusive bugs and fixes
Get the game
Block Around is available for Windows, MacOS and Linux on Itch.io.
Play it for free, buy it if you like it.
System requirements
Minimum
Operating System:

Windows, Linux, MacOS (x86-64)

Processor:

Dual core 1,5GHz 64 bits

Memory:

256MB free

Graphic card:

OpenGL ES 2.0 compatible

Storage:

100MB

Display:

1280x720
Recommended
Operating System:

Windows, Linux, MacOS (x86-64)

Processor:

Dual core 1,5GHz 64 bits

Memory:

256Mo free

Graphic card:

AMD Radeon 7750, Nvidia GeForce GTX 650

Storage:

100MB

Display:

1920x1080
News